The Purple Stage is a professional neuro-diverse theatre company. It's a space for Purple Carrots alumni to take their work to the next level!
By creating original performances in an extended rehearsal process, The Purple Stage provides meaningful job opportunities to the artists in our communities, and shares the work we do with the public.

INTERESTED IN PARTICIPATING?
We hold an audition process when it's time to add new performers to our team. Working as a performer-creator in The Purple Stage is a paid position, and requires more commitment than Purple Carrots programming. For this reason, we only take on artists who we feel are ready for this kind of process, and who we have worked within a minimum of 3 recent Purple Carrots workshop series.
The Purple Stage is all about inclusion & accessibility for our community, and we design the process around our artists' needs. If you are interested, we would love to hear from you and talk about how we could work together in the future.
For more information please contact the Purple Stage Artistic Director, Jordan Campbell.
Contact Jordan at purplestageperformance@gmail.com
PROJECTS
Our first project was an original show Here We Are, which premiered in December 2019 at Array Space in Toronto. In this project, six Purple Carrots artists shared their dreams, wishes, fantasies and realities in a roller-coaster performance of song, poetry, rap, dance and scene work. We had a sold-out run and the show was very well received by our community.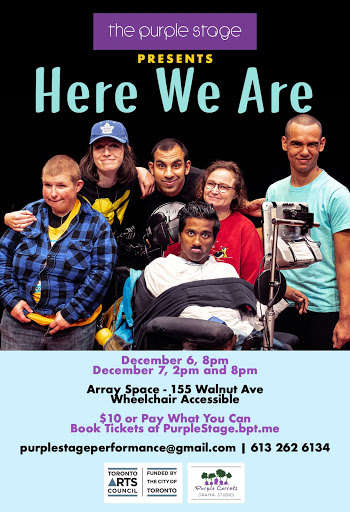 Our second project, Are You My Friend? was our first fully virtual production and premiered in 2021. At the beginning of the year, we made this beautiful film together. We were in the harshest of COVID lockdowns, we could not gather. We worked hard over Zoom, we shared our feelings and ideas about friendship, and we made a really wonderful time capsule of this strange time in our community.  Plus, our film was featured at the Pegasus International Film Festival in October 2022!
Our 2022 Purple Stage project, ALLIGATOR QUEEN UMBRELLA was our first show IN-PERSON after the pandemic at Array Space, December 8-10, 2022! Seemingly simple, yet deeply fantastical. This show is a quirky multidisciplinary journey of song, dance and scene inspired by the creative company.  Join 5 neurodiverse artists from The Purple Carrots community as they transform small objects into poignant and unexpected moments on The Purple Stage.
We can't wait to see what purple creations come up in 2023!
Purple Stage auditions are now OPEN – email Jordan for more details!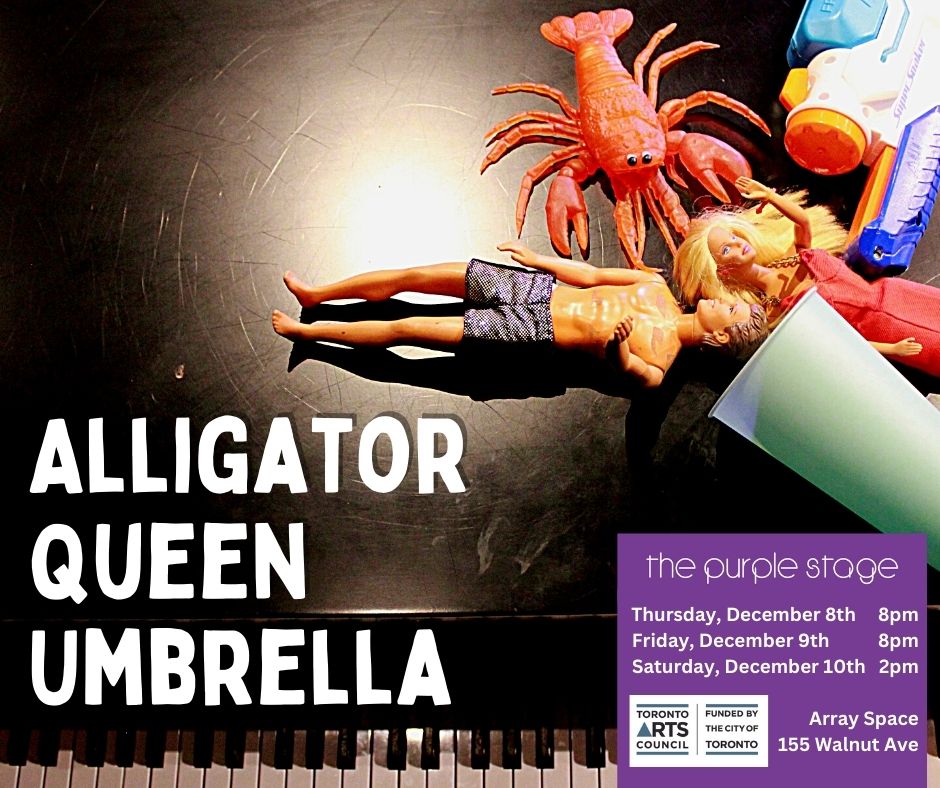 The Purple Stage projects are generously supported by the Toronto Arts Council and community donations – click below to donate today.
DONATE TO THE PURPLE STAGE